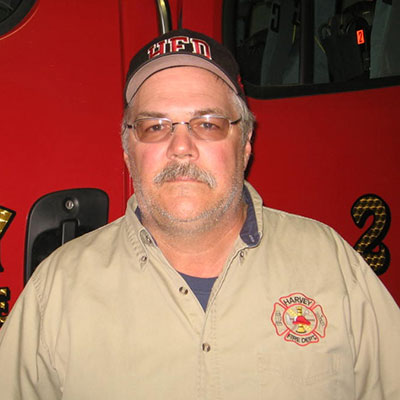 David Lautt
NDFA President
---
Harvey Fire Department
David Lautt has been a member of the Harvey Fire Department (HFD) for 25 years. In that time, he has been an assistant chief for nine years and has served as chief for the past 2½ years.
His time as chief has provided many challenging opportunities to their department. In 2015, HFD responded to 100 calls ranging from grass fires, house and apartment fires, vehicle accidents, and a CP Rail train derailment involving six burning cars. HFD and Fessenden Fire Department received national recognition for their efforts in dealing with the major event.
David is a certified firefighter through the Firefighter 1 and 2 programs, auto extrication certification, big rig certification, grain bin certification, has completed many ISC and NIMS courses, and has been a regular at state fire school. He is a major supporter of the local junior firefighter program.
David is owner-operator of Lautt's Feed & Rental Center in Harvey. He has raised bison for nearly 25 years. He is no stranger to associations and committees. He has served as the president of the North Dakota Buffalo Association, church council, the local food pantry, and Wells County soil conservation district. He is currently serving as a board member of Dakota Territory Buffalo Association based in Rapid City.
David is married to Diana. They have three children – Wyatt, McKenzie and Olivia. The family enjoys traveling, camping and sporting events. A major family event was a mission trip to Uganda last summer.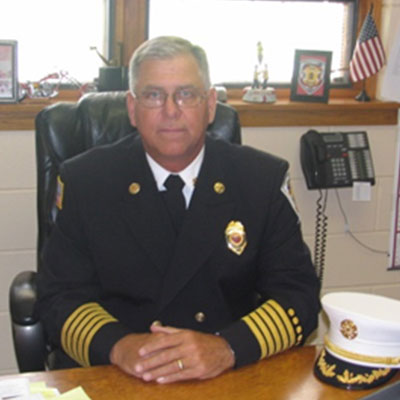 Jim Moe
NDFA 1st Vice-President
---
Devils Lake Fire Department
Fire Chief Devils Lake Fire Dept. Appointed 2004. 40 year member of the dept and Life Member NDFA. Served as President of the ND Fire Chiefs Association 2006-2008. Advocate for CTBS and Instructor of the Incident Saftey class at the State Fire School. Retired from the ND National Guard serving for 29 years and one year active in 2003. Retired with the rank of 1st SGT.
Serving and have served on many boards within our community. Co-Chair of our annual fund raiser. Married to my wife Sheryl for 21 years. Children: Stepson Kelly Graber and his wife Autum; grandkids: Aiden, Zachary. Daughters Kimberly Ough and husband Greg, grandkids Abygail, Caleb,and Lola. Karla and Husband Rob grandkids Archer and Terrance.
Hobbies include golfing, classic cars, camping and motorcycling.
---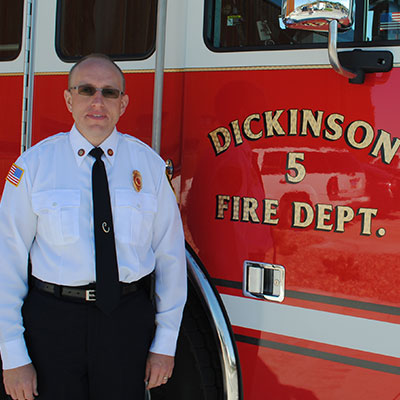 Curtis Freeman
NDFA 2nd Vice President
---
Dickinson Fire Department
Curtis Freeman entered the fire service profession with the Dickinson Volunteer Fire Department on October 2000. Serving in a variety of roles within the department he currently holds the position of Assistant Fire Chief. He is a Certified FFII, a Fire Instructor I, NREMT and CPR Instructor.
Curtis is a past member of the Certification Advisory Committee and is currently a Certification Tester and the Southwest Region Trustee for the NDFA. He serves on the ND LAST team and is a Courage to be Safe Facilitator for the National Fallen Firefighters Foundation. Curtis actively instructs various topics at regional fire trainings and State Fire School.
Curtis and his wife Reshell live on a small hobby farm south of Dickinson with their three children. He is employed at KLJ as a Project Manager/CAD Supervisor and does some GIS work. Being an active member of the community he serves at his church, EBC, and on the New England Ambulance District Board. He is also involved in the Theodore Roosevelt Amateur Radio Club and helps at the local ambulance services.
Curtis enjoys hanging out with his family, hunting, shooting and riding bike in his spare time.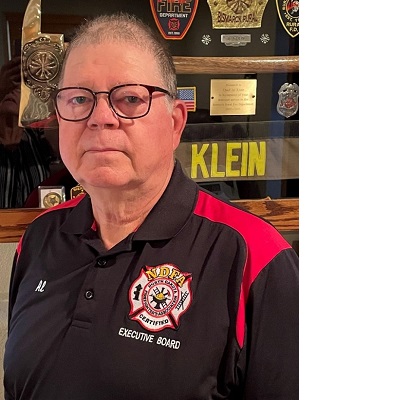 Allan Klein
NDFA Secretary/Treasurer
---
Bismarck Rural Fire Department
Allan Klein has been Secretary/Treasurer of the NDFA since 1997. He served as NDFA President in 1985.
He is Certified FF II, 2008 Standard, State Certification Tester, Fire Instructor I & II. Allan is a director to the National Volunteer Fire Council for the state of North Dakota.
He started his fire career as a volunteer on the McClusky Fire Department in 1976, joined the Mandan Rural Fire Department in 1997 and then became the first career Chief of the Bismarck Rural Fire Department in 2005. He retired from that position in 2016 and has become a full time grandfather to his 15 grandchildren.
---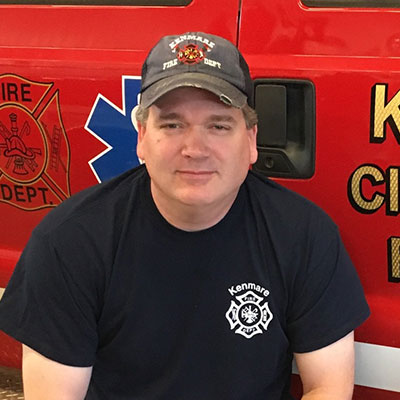 Nate Condit
NDFA NW Trustee
---
Kenmare Fire Department
Nate Condit has been a member of the Kenmare Fire Dept. since 2005. He has served the KFD as an officer since 2007, holding positions as truck captain, assistant chief and chief.
He received his Firefighter 1 in 2016. He has been a member of the Kenmare Ambulance since 2008, an EMT since 2011.
Nate has worked with as a John Deere parts man for 25 years, 13 of those for Gooseneck Implement. Nate is married to Christie and has 2 daughters, Elsa and Emma.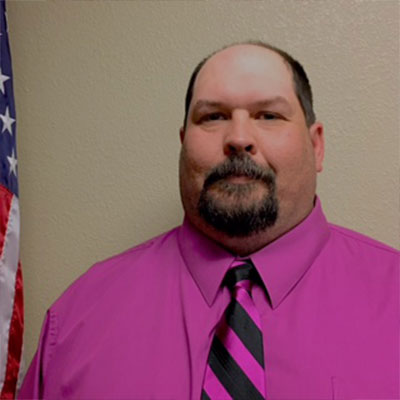 David Schneibel
NDFA NE Trustee
---
Rugby Fire Department
David started his career in the fire service joining the Rugby Volunteer Fire Department in 2004. Since that time David has held many positions including Training Officer, Secretary/Treasurer, and is currently serving his 4th term as Chief.
David is certified FFII, Instructor I, and Auto Extrication through the NDFA. He has also completed many other training certificates in NIMS/ICS, EVOC, and Hazmat Ops. He currently is instructing Auto Extrication for the NDFA and assists where needed for other classes.
David resides in Rugby with his wife Nicole and five boys: DJ, Cole, Brody, Austin, and Zackary.
---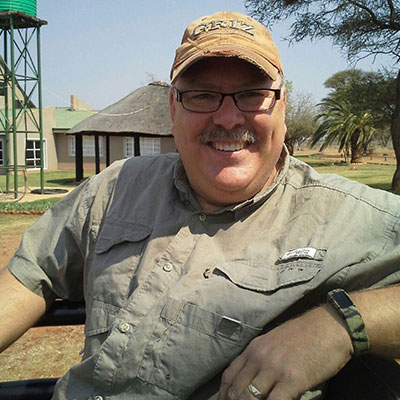 Paul Bensch
NDFA SE Trustee
---
Jamestown Rural Fire Department
My name is Paul Bensch and I am excited to serve as the new Southeast Regional Trustee. I am currently serving as the Assistant Training Officer with the Jamestown Rural Fire Department. I have been in the fire service for 15 years now, and with the JRFD since 2012. Prior to that I was a volunteer with the Jamestown Fire Department. During my 15 years in the fire service I have spent 12 of those helping instruct firefighters in preparing for the NDFA certification test.
State Fire School in February will mark the fifth time I have had the pleasure to be an instructor at the North Dakota State Fire School. I have my NDFA Certified Firefighter I/II, Instructor I, Auto Extrication Certification and have an Emergency Medical Responder Certification.
There are many classes that fire departments can have brought to their departments free of charge because they are grant sponsored. Please contact me with any training that you would like to bring to your department. I look forward to working with the Southeast departments to secure the training they need.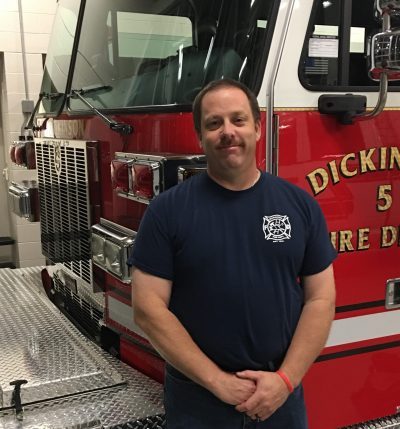 Todd O'Donnell
NDFA SW Trustee
---
Dickinson Fire Department
Todd started in the fire service in May 2004 with the City of Dickonson Fire Department as a volunteer. In July of 2011 he was hired full time with the Dickinson Fire Dept and promoted to Fire Inspector in August 2012. Todd has held the title of Lieutenant since January 2010, he is FF II, Fire Instructor I and received his Hazmat Pro Board Certification from CDP in Anniston.
Todd resides in Dickinson with his wife, Amy and their two boys, Patrick and Connor.
---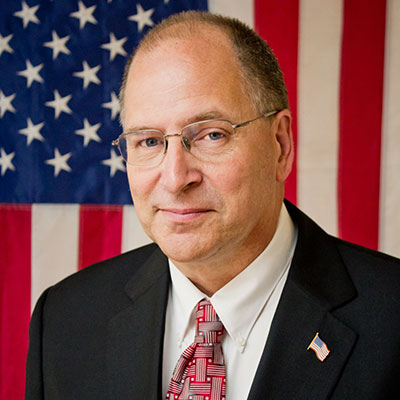 Dale Trosen
NDFA Immediate Past President
---
Larimore Fire Department
My name is Dale Trosen and have served the Larimore Volunteer Fire Department for many years, joining in 1979. Over the years I have served in many of the offices in the department.
I have worked in the Agriculture industry my whole career. Currently I am working for Agassiz Sales, Buxton ND. They specialize in drain tile instillation, but are expanding in the Ag Machinery business.
I have always been involved in the community. I served many years on the City Council and Mayor for the City of Larimore.
My wife Jan and I enjoy spending every moment we can with our five grandkids: McKinzie, Bailey, Addyson, Braydon, and Karter, and their parents Mindy and Jon, Kara and Nick.
I have enjoyed working on the executive board and am looking forward to working hard to keep advancing firefighting and the NDFA in the state of North Dakota.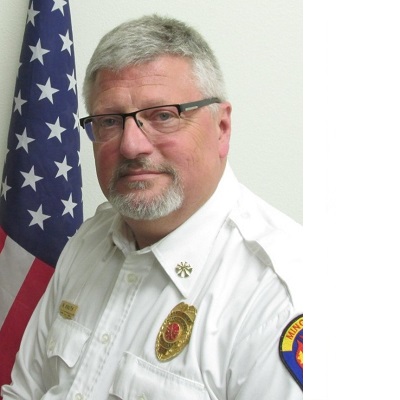 Robert Knuth
NDFA Training Director
---
Minot Rural Fire Department
Rob Knuth has been in the Fire Service since 2000. He is currently an Assistant Chief with the Minot Rural Fire Department.
Rob spent 21 years in the United State Air Force. While on active duty he received his Bachelors degree from the University of Southern Illinois in Work Force Education and Training. He is currently the Training Director for the North Dakota Firefighter's Association. He is a Certified FFII, 2013 Standard, State Certification Tester, State Auto Extrication Instructor, and Fire Instructor I.
---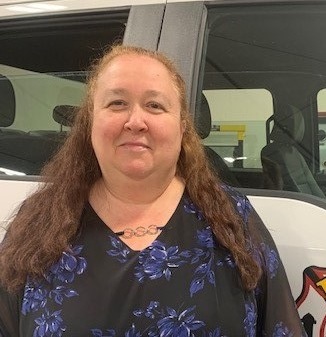 Julie Geltel
NDFA Office Assistant
---
Julie Geltel has been an Office Assistant with the North Dakota Firefighter's Association since 1999. As an honorary member of the Bismarck Rural Fire Department, Julie attends trainings and events to further her knowledge of the Fire Service.
In March of 2011 as a testament to her dedication she successfully passed the test and earned her State Certification as a Firefighter I, under the 2008 standard.